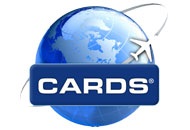 CARDS® – Civil Aircraft Remote Delivery System is a ground breaking software platform designed by CloudCARDS Ltd. to support the technical review and management of aircraft for aircraft delivery / redelivery in addition to indexing and archiving the records online.
CARDS® is a web based software platform, which does not require any software to be downloaded. CARDS® also has a mobile APP for aircraft physical inspection which works offline once signed in and synchronizes with a platform when internet connection is available.
CARDS® also offers a range of planning and project management tools making it all-purpose solution for aircraft asset management.
CARDS® features:
• Aircraft Physical Inspection Mobile Application
• Remote Aircraft Records Audit
• Aircraft Records Continual Update
• Online Aircraft Records Archiving
• Aircraft Delivery/Redelivery Project Management Platform
• Aircraft Project Planning
• Aircraft Parts and Material Tracking
• 30 Languages available to users
• 55 servers Worldwide
• Banking Grade Online Security for the Aircraft Records
• Industry Standard Aircraft Records Delivery Book
• Compatible with any type of Aircraft including Helicopters
Advantage.
The practical advantage of CARDS® is that it engages all parties, not only the party managing the aircraft transition but the MRO, the current aircraft operator and the next aircraft operator. With CARDS® these parties can identify the issues, show how the issues have been addressed, provide substantiation if required and finally, show acceptance that the issues are closed.
Categories

:
Configuration Management
Digital Information Security
Industry Performance Metrics
Initial Provisioning
Maintenance Planning
Maintenance Procedures
Online Marketplaces
Reliability-Aircraft/Engine/Component
Repair Planning/Order Management
Service Bulletins
Spares Planning/Order Management
Warranty Claims Management
Types

:
Consulting Services
Content Authoring/Management
Software