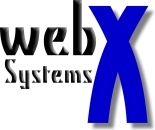 WebX develops and supplies a range of high-end software products including XML Publishing & Management Software, Common Source Database (CSDB), Content Management and Workflow Software using state of the art development systems and tools to create robust, sleek and professional Windows applications with unparalleled easy-to-use graphical user interface. 
WebX has over 18 years experience and knowledge in specifying and supplying total publishing, content management and workflow solutions to the International Market and already attracted the attention of leading publishers in Europe, USA and the Middle East. WebX has a depth of experience and knowledge in the field of Content Management Systems (CMS) and Workflow and will be able to provide management and technical consulting services to companies throughout the world. 
WebX works closely with affiliates and other companies to market its solutions and products throughout the world. This gives our customers the most efficient local support possible to help them achieve long term value out of their publishing solutions and content management systems. 
WebX is renowned for working closely with its customers to tailor and fine tune its products and solutions to their individual business requirements, and uses its expertise gained through dozens of project implementations to meet their specific objectives 
WebX is rapidly becoming the leading provider of technical publishing and content management products and services for the aerospace and defence industry on a global scale.