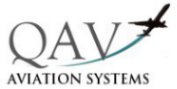 QAV Aviation Systems offers three systems:
MX System is a flexible, comprehensive yet affordable aircraft maintenance system capable of providing the critical information required by today's operators –maintenance component tracking, reliability analysis, maintenance planning and scheduling, maintenance program, flight log administration, maintenance control, aircraft status, flight scheduling, parts purchasing and inventory control. It helps to reduce the complexity inherent in maintenance planning and administration by organizing the various processes into inter-connected modules geared to improve speed and accuracy of input. MX System's intuitive design promotes its acceptance by the end user, which ultimately determines its successful implementation.
TX System is a straightforward tracking system of employee training. It allows you to stay on top of training requirements before they are due, schedule classes in advance, and track authorizations as they are renewed. It allows you to set up different areas of tracking so your company can allow different departments to track their own training requirements. Assign temporary authorizations, track licenses obtained by your employees, and find out who doesn't have specific training. The system combines personnel maintenance functions with the ability to track and update training history and licenses of employees and consultants. In addition, you can schedule classes for specific courses, assigning personnel to individual classes, and then afterwards process all attendees with their new training authorizations. If classes have overflows, then simply assign individuals to a waiting list. It also provides the ability to send out emails to individuals notifying them of authorization renewals.
Quick AD is your answer to the arduous task of managing and organizing AD-related data. Besides providing quick and easy access to AD information, Quick AD gives you up to date information on FAR library (1-199) files, Type Certificate Data Sheets, and STC's. In addition, the program's interactive functions allow you to add your own notes to each AD, create aircraft/engine/appliance profile worksheets, and import or export profile worksheets in order to share the information with other Quick AD users.  Quick AD is easily updated through our Quick AD Web updates that refreshes your data in seconds, all accomplished within our application when connected to the Web. This truly benefits anyone who is away from their home base for extended periods of time where an update CD would not be available, or international users who do not have to wait weeks for the Update CD to arrive.
QAV is committed to react and respond to our clients' specific requests. We strive to deliver the type of system from which your company will truly benefit.