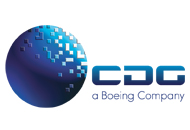 CDG, a Boeing Company, specializes in helping organizations maximize their operations efficiency with engineering lifecycle services and software solutions.
CDG Services and Solutions include:
Technical Documentation Services & Solutions
• Technical Authoring of ATA and S1000D™  Technical Publications
• Maintenance Manuals, Illustrated Parts Catalogs, Customer-Originated Changes (COCs),
Service Bulletins, Structural Repair Manuals, Wiring Diagrams, T-Files
• Interactive Electronic Technical Manual (IETM) Authoring and Software Solutions
• S1000D™ Training and Consulting
• Content Conversion Services – Including paper or microfilm to digital delivery
Training Solutions
• eLearning Content Development (ATA 104 Level 1 to 3)
• Mobile Device Access for On-Demand eLearning
• Computer-Based Training (CBT)
• Learning Management Systems (LMS)
Software Solutions
• Smart IPC™ – An Interactive Parts Catalog capable of delivering multiple OEM data in a single platform, all seamlessly integrated with parts inventory ERP systems and external parts sourcing databases and websites.  Smart IPC can also be accessed via mobile devices such as cell phones and tablet computers for quick, portable access to technical information and parts data – anytime, anywhere.
• Wiring Illuminator Web™  – Advanced Interactive Wiring Troubleshooting Tool
• Supply Chain Analytics – Software solutions providing decision support related to Parts & Maintenance Operations
Engineering Services
• Engineering Design Services
• Aircraft Reconfiguration/ Mods
• Stress Analysis
• CAD Conversions
• CATIA, ENOVIA, DELMIA Expertise
For more than 40 years, CDG has provided mission-critical services and solutions to support the aviation industry. Our employees are constantly integrating new ideas into our processes, striving for higher quality standards, higher speed, and lower cost solutions for our customers.
With more than 1,200 employees worldwide, CDG production and customer service facilities are located in multiple locations throughout the US, Europe, and India.